Curtis Fairless Obituary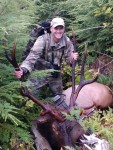 May 7, 1981
-
December 16, 2018
Born in Seaside, OR
Resided in

Warrenton

,

Oregon
Obituary
Curtis Robert Fairless was born in Seaside, Oregon on May 7, 1981. Curtis enlisted in the United States Marine Corp. immediately after he graduated from Seaside High School in 2000. Cpl. Fairless was deployed to the front lines infantry as a mortar-man during the first invasion of Iraq. A rocket-propelled grenade wounded Cpl. Fairless, for which he received the Purple Heart.
After arriving home from war Curtis enrolled at Clatsop Community College where he and his sister Angela enjoyed the opportunity of attending philosophy & poetry classes together. In 2014, he earned his associates degree in maritime science vessel operations. Curtis enlisted in the Oregon National Guard where he advanced quickly to the rank of Sergeant. He faithfully served his country in two more overseas deployments, this time to Afghanistan.
In addition to his Purple Heart, Sgt. Fairless earned a number of other distinguishing military decorations and ribbons. Among these were the Afghanistan Campaign medal with 2 stars for his tours of duty there, the Army Commendation Medal, the Navy/Marine Combat Action Ribbon, USMC Presidential Unit Citation, Army Good Conduct Medal, National Defense Service Medal, Army Service Ribbon, Sea Service Deployment Ribbon and NATO Medal.
Being a skilled hunter, avid hiker, fisherman, and clam-digger, Curtis loved the outdoors, having a deep reverence for the wild and all its inhabitants, especially those he could eat. He also enjoyed all different kinds of sports, particularly if the activity took place among nature.
As a firearms marksman, Curtis was a passionate advocate for the protection of the Second Amendment, which he believed was in place as a right for all citizens and to prevent tyranny. He attended some political events, including the peace rally held in Portland on the fifth anniversary of the War in Iraq. Curtis was in favor of the idea of the federal government passing legislation that allowed veterans to seek alternative treatment for post-traumatic stress disorder which included the use of cannabis products.
Those who knew Curtis will agree he had a sharp mind, quick wit and strong sense of humor. We will miss the long, insightful discussions about politics, history, weapons, religion and philosophy. Also, his cats.
He is preceded in death by his grandparents, Bud and Shirley Zwahlen of Warrenton, and Clarence and Ruth Mason of Seaside; and his father, Donald Zwahlen of Seaside.
He is survived by his mother Laura Fairless (formerly Mason); his dad, John Fairless of Seaside; his sister Angela Fairless, and his nephew, Ruben Saucedo of Astoria. He will also be missed by his uncle, Ron Zwahlen, his aunt, Theresa Zwahlen Hecox, and his uncle Tom Hecox; and cousins TJ, Becky Wilson Seybold, Andy Hecox, Sarah Perrigo and Shelby Hecox. He will be missed by his stepsister, Allison Fairlesss; and his brothers, David Kurns, Jered Lyons, James Sibley, Jacob Burke, Nate Cantu, Eric and Wade Horning, Armando Guerrero, Dan Smith and Joshua Bunker.
A memorial service will be held on at 3:30 pm on Saturday, January 5, 2018 at Camp Rilea. The doors open at 3:00 pm. The final salute, whereby he receive the commemoration of full military honors is set to commence at 4:20 pm.
A reception is scheduled to follow in Warrior Hall where snacks and Vortex IPA will be served. Please join with us and honor this fine Marine who proudly served his county as an exemplary soldier. The family has asked that in lieu of flowers, to please make donations to the Wounded Warrior Project. Instructions how to go about this can be found at the online memorial tribute at www.hughes-ransom.com and www.facebook.com/hughesransommortuary/ where you can also sign the guestbook, share a favorite memory or upload a photo(s). Funeral arrangements by Hughes-Ransom Mortuary & Crematory, Astoria, OR.
To send flowers or a remembrance gift to the family of Curtis Fairless, please visit our Tribute Store.
Services
Get Together
Family & Friends Gathering
1315 Broadway St.
Seaside
,
OR
97138
All are welcome
- Show more -
Memorial Service
Memorial Service
33168 Patriot Way
Warrenton
,
OR
97146
Reception at Warrior Hall after Memorial Service
- Show more -
Charities
Wounded Warrior Project
PO Box 758517
Topeka, KS 66675-8517
Give a donation in the memory of someone by clicking on the provided link, fill out the online form and follow the prompts. You may donate by mail or phone also.

https://support.woundedwarriorproject.org/default.aspx?tsid=10201&ovr_acv_id=4684&campaignSource=ONLINE&source=BS19001&ds_rl=1264110&gclid=Cj0KCQiApbzhBRDKARIsAIvZue-imPxcVWaUGHkYK0pk8COY35A0sDzprRDb4jtbe61LzIMHlRrvfN8aAgkyEALw_wcB